Ride-on Drum Truck

Product Model : 
Ride-on Drum Truck DTR250G
* Easily glides over pallets to quickly load or unload 30 or 55-gallon drums.
* Grabs drums from the middle of a standard pallet with a drum claw grab, raises the drums up, and
redistributes them throughout the facility.
* Also removes drums from the corner of containment skids.
* Highly maneuverable unit features a unique 3-whee; design with large 6"ploy wheel and a caster brake.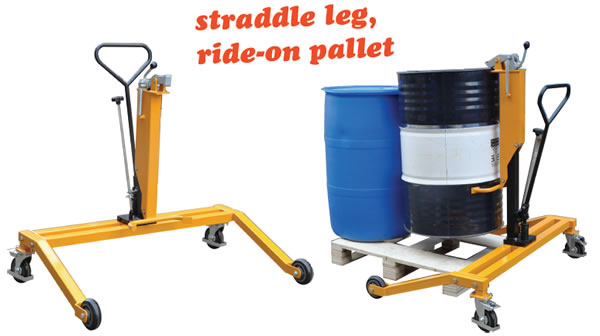 Model

DTR250G

Lifting Capacity

(kg)

250

Lifting Height

(mm)

310

Drum Size

Steel Drum Φ572600mm,(55 gallon)
Plastic Drum Φ580600mm,(210 Liter)

Inside Fork Width (Adjustable)

(mm)

1050~1250

Dia of Front Wheel

(mm)

Φ125

Dia of Steering Wheel

(mm)

Φ125

Overall Dimension

(mm)

740×1190×1090

Net Weight

(kg)

45