Four Way Pallet Truck

Product Model : 
Four Way Pallet Truck HPF series
* Unique 4-direcional movement capacity provides the flexibility to maneuver wide loads through standard aiales.
* An additional set of wheels allows pallet truck to be moved sideways in addition to be the conventional
forward and back directions.
* Move heavy loads. quickly and effortlessly, with convenient hydraulic power and industrial quality features.
* Trucks are constructed of 4mm thick steel with reinforced fork bracing.
* Include sealed ball bearings on wheels that are permanently lubed and polyurethane coated.
* Handle has a cushion grip with a 3-position lever.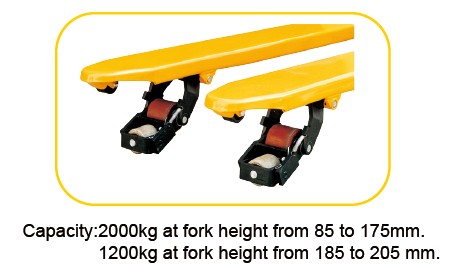 | | | | |
| --- | --- | --- | --- |
| Model | | HPF12S | HPF12L |
| Capacity | (kg) | 2000/1200 | 2000/1200 |
| Max. Fork Height | (mm) | 205 | 205 |
| Min. Fork Height | (mm) | 85 | 85 |
| Fork Length | (mm) | 1150 | 1150 |
| Width Overall Forks | (mm) | 540 | 680 |
| Rear Wheel | (mm) | Φ200 | Φ200 |
| Net Weight | (kg) | 75 | 78 |