Aluminum Stacker

Product Model : 

AWS181
AWSL181
AWS227
AWSL227
Aluminum Stacker AWS/AWSL Series
* Disassembling and assembling is easy.
* Can fit into smaller spaces when disassembled.
* Equipped with wheels on the mast also allow it to be used as a trolley.
* Light Alumium mast, easy for handling.
* No any hydraulic problem, beasue it is operated by winch.
* The brake function with special design is obvious.
* Conforms to EN1757-1.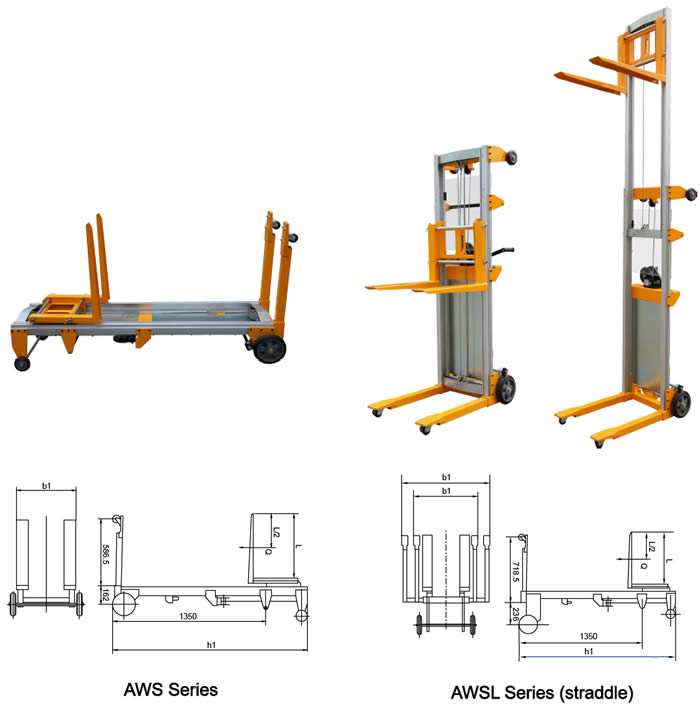 | | | | | | |
| --- | --- | --- | --- | --- | --- |
| Model | | AWS181 | AWSL181 | AWS227 | AWSL227 |
| Capacity | Q(kg) | 181 | 181 | 227 | 227 |
| Load Centre | C(mm) | 305 | 305 | 305 | 305 |
| Height-maximum Forks Down | h1(mm) | 2500 | 2500 | 1250 | 1250 |
| Min. Fork Height | (mm) | 90 | 50 | 90 | 50 |
| Fork Length | L(mm) | 570 | 570 | 570 | 570 |
| Fork Width | b1(mm) | 630 | 1100 | 630 | 1100 |
| Net Weight | (kg) | 60 | 66 | 51 | 57 |