Electric Windlass

Product Model : 

KDJ-2200E1
KDJ-3200E1
KDJ-5000E1
KDJ-10000E1
Electric Windlass KDJ series
* Wire rope fixing
No escape of wire rope from the drum by means of P.T.screwdevice
* Drum reansmission
The shaft dribing drum provides rope replacement and alternation of rotation with easy.
*Electromagheting
Designed for both static and dynamic loading.Brame will automatically apply in the event of power cut.
Large friction suiface area.No adjustments or serbing requirment.
* Induction motor
IEC industion motor mounted provides reaility availiable,cost effective and service spares availiability world wide.
* Ball bearings
High efficient and heavy duty bearings provide long lift.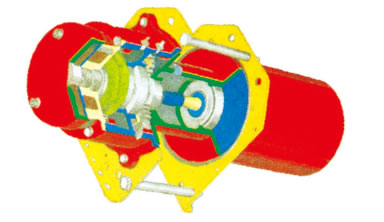 Model

Load
Rated
(ibs)

Speed
(m/min)

Motor
hpxp

Power
Source

Lifting
Height
(m)

Wire
Rope
(mmxm)

N.W.
(KG)

Percentage
duty cycle

KDJ-2200E1

2200

7-12.5

3Phase
50Hz
380V
415V

97

16x100

450

450

25%ED

KDJ-3200E1

3200

6.3-8.8

97

18x100

500

500

ED

KDJ-5000E1

5000

8.0-12

192

22.4x200

1500

1500

(150times/h maximum

KDJ-10000E1

10000

7-11

235

32x250

3000

3000

starting ftequency)