Hand Winch

Product Model : 

WH06
WH08
WH10
WH12
WH14
WH16
WH18
WH20
WH25
Hand Winch WH series
* Suitable for many lifting and lowering applications such as raising boats on davits or raising and lowering saiboat keels.
* Self-locking brake winches provide additional safety and control for many lifting and pulling jobs.
* The automatic friction brake supplies constant,positive holding action and prevents runaway
Load.
* Brake is fully automatic and the load remains in position anytime the handle is released.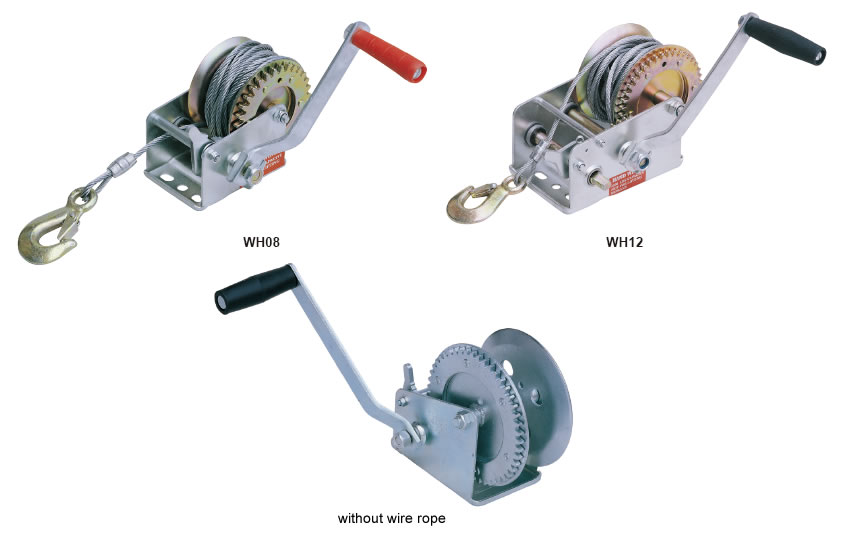 | | | | | |
| --- | --- | --- | --- | --- |
| Model | W.L.L (ibs) | Cable | Gear Ratio | Net Weight (kg) |
| WH06 | 600 | 4.2mm x 10m | 3:1 | 17 |
| WH08 | 800 | 4.5mm x 10m | 3:1 | 17 |
| WH10 | 1000 | 4.5m x 10m | 3.4:1 | 19 |
| WH12 | 1200 | 4.8mm x 10m | 3.4:1 | 19 |
| WH14 | 1400 | 4.8mm x 10m | 3.4:1 | 22 |
| WH16 | 1600 | 5.0mm x 10m | 4:1 | 17 |
| WH18 | 1800 | 5.1mm x 10m | 4:1/8:1 | 20 |
| WH20 | 2000 | 5.1mm x 10m | 4:1/8:1 | 21 |
| WH25 | 2500 | 5.6mm x 10m | 4:1/8:1 | 23 |