Hand Puller

Product Model : 

P10SF
P10DF
P15SL
P15DL
P15SC
P20SH
P20DC
P20SG
P2
Hand Puller P series
Professional class
* Drum and ratchet wheel are cast as one unit from aluminum alloy.
* Steel hand and frame finished with an galvanized to resist chips and corrosion.
* Spring loaded ratchet control lever permits operation in any position and allows you to easily switch from lifting to lowering.
Conforms to CE safety standard.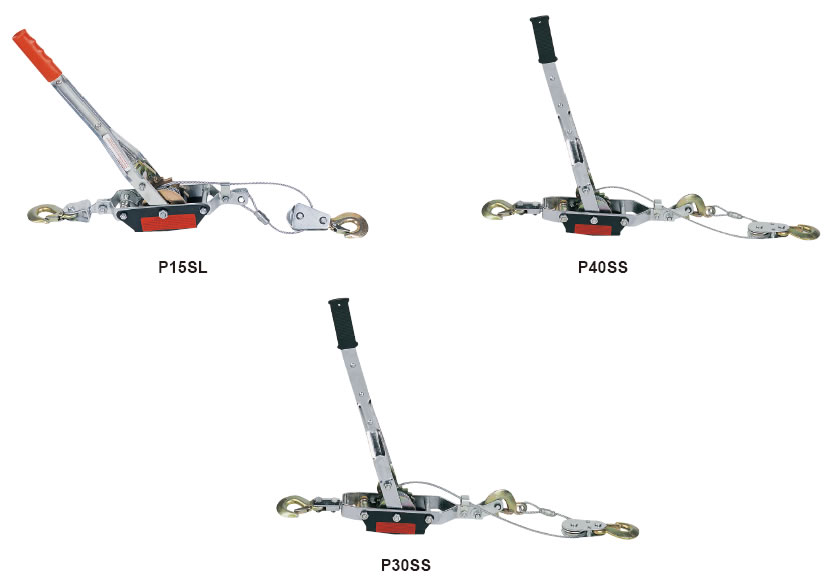 | | | | | | |
| --- | --- | --- | --- | --- | --- |
| Model | Gear | Tractor Capacity (kg) | Cable | Remar | N.W (kg) |
| P10SF | Single | 1000 | Φ5mm x 1.8mm | Facilitated | 11.5 (6pcs) |
| P10DF | Double | 1000 | Φ5mm x 1.8mm | Facilitated | 13 (6pcs) |
| P15SL | Single | 1500 | Φ5mm x 2.2mm | Light | 13 (6pcs) |
| P15DL | Double | 1500 | Φ5mm x 2.2mm | Light | 16 (6pcs) |
| P15SC | Single | 1500 | Φ5mm x 2.2mm | Light,Chromeplate | 15 (6pcs) |
| P20SH | Single | 2000 | Φ8mm x 3mm | High quality,Chromeplate | 18 (16pcs) |
| P20DC | Double | 2000 | Φ8mm x 3mm | High quality,Chromeplate | 19 (116pcs) |
| P20SG | Single | 2000 | Φ8mm x 3mm | General | 18 (6pcs) |
| P20DH | Double | 2000 | Φ8mm x 3mm | High quality | 20 (6pcs) |
| P30SF | Single | 3000 | Φ5.1mm x 1.8mm | Facilitated | 25 (6pcs) |
| P30DF | Double | 3000 | Φ5.1mm x 1.8mm | Facilitated | 26 (6pcs) |
| P30SS | Single | 3000 | Φ5.1mm x 1.8mm | 3Hooks,Facilitated | 17.5 (4pcs) |
| P30DS | Double | 3000 | Φ5.1mm x 1.8mm | 3Hooks,Facilitated | 18.5 (4pcs) |
| P40SH | Single | 4000 | Φ6mm x 3mm | High quality,Chromeplate | 20 (4pcs) |
| P40DH | Double | 4000 | Φ6mm x 3mm | High quality,Chromeplate | 21.5 (4pcs) |
| P40SS | Single | 4000 | Φ6mm x 3mm | 3Hooks,High quality,Chromeplate | 21.5 (4pcs) |