High Lift Scissor Truck

Product Model : 

HB1056M
HB1068M
HB1056E
HB1068E
HB1056EN
HB1068EN
High Lift Scissor Truck HB series

* World class quality and performance.
* Single stage cylinder.
No decrease of capacity.
No risk of leakage.
No dangerous dropping of second stage cylinder.
* Ergonomic design handle.
Simple and comfortable operation.
* Improved safety.
Automatic activation of self-adjusting stabilizers when lifting loads higher than
400mm for maximum stability and optimum braking.
* HB1056M/1068M-Manual.
Quick-lift function doubles the lifting speed when lifting loads less than 250kg.
* HB1056E/EN, HB1068E/EN-EIectric.
* Easy handling
The compact structure with the battery and power unit positioned between body
and lifting cylinder resulting in a low centre of gravity and excellent maneuverability.
* Flexibility
Can work manually when the battery has been charged.
* Charger
10A/12V separate, or 6A/12V Built-in.
* Reliable
HPI power unit made in France.
* Conforms to EN1757-4 and EN1175.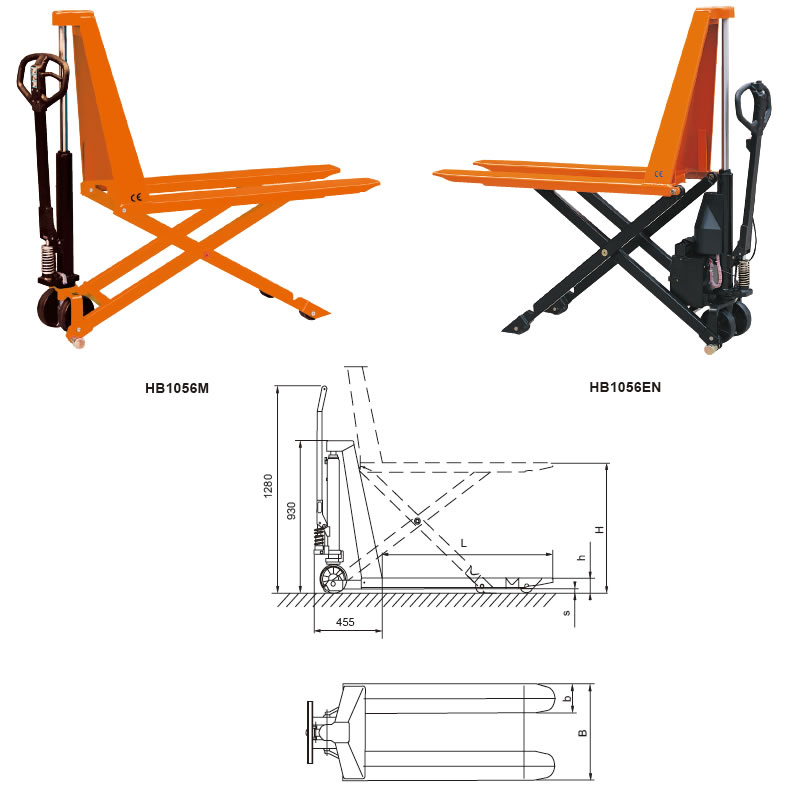 Model

HB1056M

HB1068M

HB1056E

HB1068E

HB1056EN

HB1068EN

Type

Manual

Electric

Electric (built in charger)

Capacity

(kg)

1000

1000

1000

1000

1000

1000

Max. Fork Height

H (mm)

800

800

800

800

800

800

Min. Fork Height

h (mm)

85 ± 2

85 ± 2

85 ± 2

85 ± 2

85 ± 2

85 ± 2

Fork Width

B (mm)

560

680

560

680

560

680

Fork Length

L (mm)

1190

1190

1190

1190

1190

1190

Ground Clearance

s (mm)

20

20

20

20

20

20

Front Load Roller

(mm)

Ø75x75

Ø75x75

Ø75x75

Ø75x75

Ø75x75

Ø75x75

Steering Wheel

(mm)

Ø180x50

Ø180x50

Ø180x50

Ø180x50

Ø180x50

Ø180x50

Pump Strokes to Max. Height
without / with Rated Load

28/62

28/62

—

—

—

—

Lifting Time, without / with Rated Load

(sec)

—

—

11/19

11/19

11/19

11/19

Battery

(Ah/V)

—

—

70/12

70/12

70/12

70/12

Battery Charger

—

—

Separate 10A/12V

Built-in 6A/12V

Net Weight (without Battery)

(kg)

128

133

158

163

159

164